I have been honored to be featured in the Oxford American: SoLost video series. This piece was filmed by my good friend, photographer and videographer Dave Anderson. After you see this video, spend some time exploring the other SoLost videos.
BookLab II, the Cookbook is a music video featuring the production of Such Sensations from the Logan Elm Press. Dig it. The video was done by my good friend Bob Currie of vcYES Productions.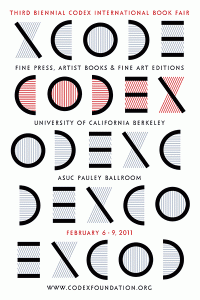 Don't miss the third biennial CODEX International Book Fair and Symposium on the campus of University of California, Berkeley. A gathering of the world's finest private presses, book artisans, artists, curators, collectors, and scholars. International in scope and possibly the largest gathering of its kind in the world. You'll be amazed at what you see there. BookLab II will be there sharing a table with our good friend Gaylord Schanilec.
Special kudos to BookLab II client, Russell Maret, who designed the poster for this years event.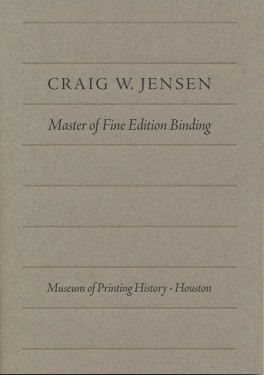 A catalog from the show Craig W. Jensen: Master of Fine Edition Binding is available for $25.00 plus $4.00 for handling and postage (Continental US).
The catalog has an introduction by Priscilla Spitler and a Preface by Craig Jensen and was designed by Brad Hutchinson and features a letterpress printed dust jacket also by Brad Hutchinson. The contents were digitally produced. Each item is described in detail and illustrated in color. 125 copies available.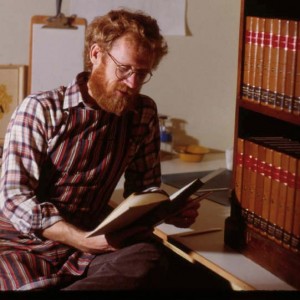 Craig W. Jensen: Master of Fine Edition Binding OPENING RECEPTION
June 24, 2010, 6:00 PM
The Museum of Printing History is pleased to present a retrospective of one of America's most well-respected bookbinders, Texas-based Craig W. Jensen. Visitors will see complex binding innovations and historical structures produced by Jensen in the last 25 years for prestigious national and international clients such as the Whitney Museum of American Art and Yushodo Co. Ltd. of Tokyo. The show runs from June 24, 2010 – September 18, 2010. An illustrated catalog is available. More info about the show here.