Edition Binding
Prima Che tu Dica "Pronto" / Before You Say "Hello"
by Italo Calvino with an English translation by William Weaver. With four multicolor woodcuts by Antonio Frasconi. Plain Wrapper Press, 1985.
Quarter leather binding with paste paper sides. Hand sewn silk head and tail bands. Housed in a cloth drop spine box with the Plain Wrapper Press device set in a recess on the front cover.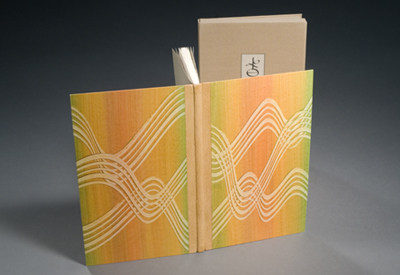 The Magic Magic Book.
by Ricky Jay. Illustrated by Vija Celmins, Jane Hammond, Glenn Ligon, Justin Ladda, Philip Taaffe, and William Wegman. New York: The Whitney Museum of American Art, 1994. Two limp paper bindings and one print portfolio, each blind embossed and stamped with matte silver foil. One of the bindings is an elaborately tabbed "magic" book. All are housed in a navy blue satin covered drop-spine box and stamped in pewter and red metallic foils. (10 5/8″ x 8 1/2″ x 1 7/8″)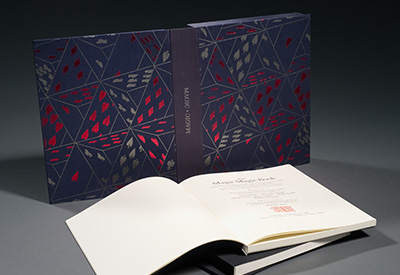 Something Lived, Something Dreamed
by William McDonough. Red Butte Press, Salt Lake City, 2004. The binding is a modern Coptic structure. The boards are sand blasted aluminum over Sycamore. The book is housed in a Iris covered drop-spine box. 125 copies.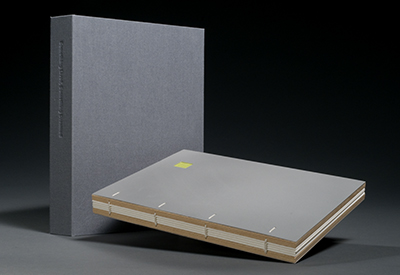 The Firebird's Nest
by Salman Rushdie. With four linoleum cuts by Alfredo Benavidez Bedoya. International Institute for Modern Letters, Rainmaker Editions, 2004.
Quarter kangaroo skin lap-case binding with blind stamped boards and black titling on the spine, housed in a quarter kangaroo drop-spine box.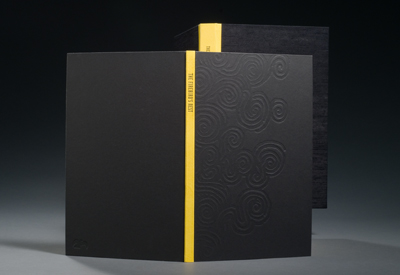 The Seven Deadly Sins of the lower middle class
by Bertolt Brecht and Kurt Weill. Translated by Michael Feingold. Illustrations by Mark Beard. Vincent FitzGerald & Co., New York, 1992
Quarter leather over false raised bands with polyester zebra-striped fabric in purple and black on the sides. Drop-spine box with recessed, gold-stamped purple leather label. The box is compartmentalized to hold a bi-folding map of the United States.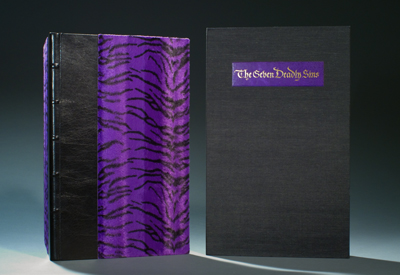 Building on years of experience garnered from Jensen Bindery and BookLab, Inc., BookLab II focuses primarily on boxmaking and the production of fine limited edition book bindings. Over the years we have gained a reputation for successfully taking on challenging projects, often employing exotic materials and unusual book structures to help small press printers and publishers realize the vision for their unique books. For a sampling of the type of projects we are capable of doing please browse the binding portfolio below.
We invite you to consider BookLab II for the binding of your next limited edition project. Please contact us.
Edition Binding Portfolio