Custom Box Making
New World Saints
24 hand-colored prints from drawings by Catherine Ferguson, with text by Spanish colonial scholar Dr. Donna Pierce. Printed by Pam Smith at The Press of the Palace of the Governors in and edition of 140 signed and numbered copies in 1995. The arched top box is covered in Bamberger, Iris book cloth and is lined with Italian printed and Japanese gold foil papers. The front "doors" fasten with a decorative brass hasp. The box was built at BookLab, Inc. in Austin, Texas.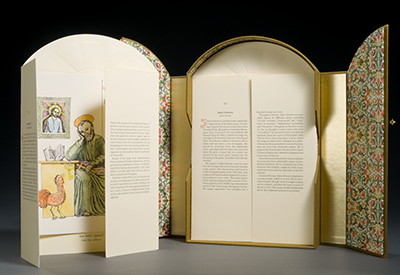 A Printer's Exquisite Corpse
Thirty-eight 5″ x 8″ cards printed by thirty-four different printers. The whole organized and published by the Silver Buckle Press at the University of Wisconsin, Madison Libraries in 1992. The box is covered in various colors of Van Heek, Brillianta book cloth and divided into 4 compartments at BookLab, Inc. in Austin, Texas.
View details of the box here.
Try out the book here.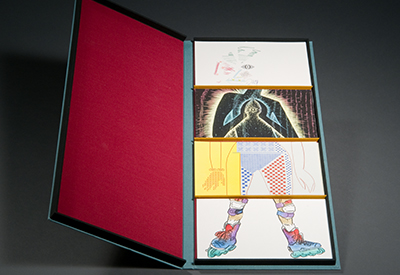 Scroll Box
A long drop spine box with double cut-aways in the base tray to allow for easy retrieval of the scroll. The box includes wool felt lined half circle rests for the scroll knobs and flat wool felt lined rests for the scroll top to rest, leaving the scroll title clearly visible.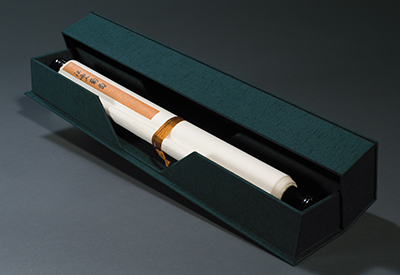 Tea Bowl Box
Exquisite Japanese cloth covered tea bowl box with ribbon ties.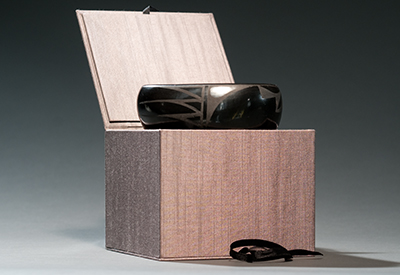 Geisha: The Life, the Voices, the Art
By Jodi Cobb
Alfred A. Knopf, New York, 1995
An edition of drop-spine boxes made for the trade publication. The box walls are covered in white on white Japanese brocade bookcloth. The box case is covered in black Japanese bookcloth. The cover is stamped in matte silver foil. (11″ x 12″ x 1.25″)
Custom housings at BookLab II are based on the drop-spine folding book box design. This well proven design is favored by librarians, archivists, museum curators, photographers, limited edition printers and publishers for its intuitive use and book-like features. Boxed prints are easily viewed and transported, boxed fragile books are fully supported for shelving and elegant limited edition books can be attractively housed in a box covered with complimenting materials. The telescoping box trays minimize the effects of dust, light and fluctuating temperature and humidity.
The standard double-tray drop-spine box consists of a lid tray, a base tray, and a case. For strength and durability, our boxes have a double-wall tray construction with stepped corner joints. Exceptional accuracy, precise cutting and assembly always distinguish our work.
The standard box may be modified to fit any object–not just books. Should the item or items you need boxed be of irregular size or multiple different sizes , a shelf, tray or multiple compartments can be constructed in the box. A wide range of covering materials are available from standard bookcloths to more exotic materials. We can also make boxes in edition quantities. Please contact us to discuss your project.
Custom Box Making Portfolio