Adventures of a Marbler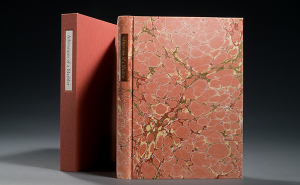 Adventures of a Marbler
Volume Two of Marbling at the Heyeck Press
Robin Heyeck
The Heyeck Press, Woodside, California, 2006
Bound at BookLab II, San Marcos, Texas
27.3 cm x 19.7 cm x 2.2 cm
Number 26 of an edition of 150 copies. Designed, hand set, and letterpress printed by Robin Heyeck on Buckskin paper handmade by the Twinrocker Paper Mill. Marbled paper specimens made and tipped into text by Robin Heyeck. Sewn on a concertina support with additional stubs to accommodate marbled tip-ins. Bound in full marbled silk cloth in a rounded case binding. Custom made cloth endbands. Housed in rust cloth drop-spine box with inset on spine for printed label.
Though this binding appears simple, the execution was complicated due to the numerous marbled paper tip-ins. The marbled silk was hand lined with paper before binding.